News
Posted on: November 11th 2019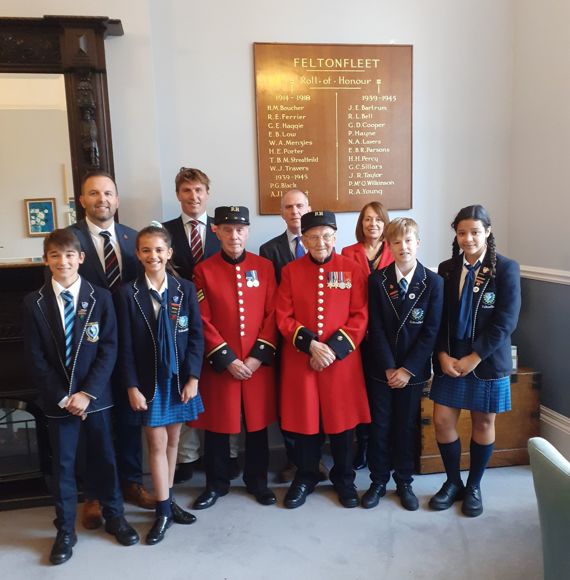 Ahead of Remembrance Day, Feltonfleet School marked the occasion with a number of events during the week.
Following half-term, pupils were amazed on their return to see a giant poppy mural adorning the grass bank in front of the school. Created through a collaboration between the Art and Estates Departments, the surprise installation not only formed a striking background to Friday's Remembrance Service in school, but will also act as a poignant reminder to the pupils as they play alongside it during the coming weeks, even though the paint will begin to fade. Olivia, in Year 6, said, "We were so amazed when we came in to school – it looks brilliant and helps us remember".
On Monday, the school was delighted to welcome two Chelsea Pensioners from the Royal Hospital, Chelsea. Bill Fitzgerald and Tony Hunt, accompanied by Major (Retd.) Frankie Howell, now Captain of Invalids No.3 Company, joined the pupils in Years 3 to 8 for the first assembly of this half term. Then they visited the pupils in their classrooms to answer questions and share stories of their lives. The pupils were fascinated to learn that, during Operation Overlord in WWII, Bill Fitzgerald landed on Gold Beach on D-Day, 6th June 1944. At 94 years of age, he is one of the few remaining survivors of Operation Neptune, the largest seaborne invasion in history. Lincoln, a pupil in Year 3, commented, "Our visitors were both very inspiring and they gave up their time to talk to us about their war experiences, which I found very interesting."
On Friday 8th November, Feltonfleet was led by the pupil Heads of School in its annual service of Remembrance to remember the 22 former Feltonfleet pupils who lost their lives whilst serving their country. This year the focus in honouring the fallen was Capt. Henry Mason Boucher MC, who served in the Somerset Light Infantry and was killed 23rd April 1918, aged 27.
Following the service, the whole school community, from Nursery to Year 8, including staff, parents and grandparents, gathered silently in front of the school's memorial on the Terrace Lawn, whilst senior pupils laid a wreath and crosses. Shelley Lance, Headmistress, said, "This is always a very special time of year and an opportunity for us all to come together to remember the brave men and women who have given their lives so that we may live ours in peace".