News
Posted on: November 11th 2020
On Friday 6th November Feltonfleet came together in thought and prayer in their own Services of Remembrance in honour of the Feltonfleet Fallen and all those who sacrificed their lives for us.
In the week up to Friday's events two of our own staff members, Major (Ret'd) Ed Smith and Captain (Ret'd) Will Davies led assemblies in which pupils learned more about the reasons for our traditions on Remembrance Day.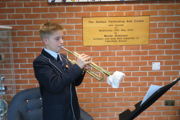 On Friday, during three separate Remembrance Services for Lower, Middle and Upper School, we heard the story of Peter Gresham Black, who was a pupil at Feltonfleet from 1923 to 1929 and who was killed in action during World War Two at the age of 27. The annual roll call of the Feltonfleet Fallen was followed by the traditional trumpet sounds of "Last Post" and "Reveille" performed by Year 7 pupil, Harry.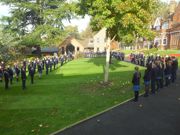 Normally an occasion for the whole Feltonfleet community to gather together, this year, just the Upper School pupils and a small group of Staff stood in front of our memorial to lay crosses and wreaths for the Feltonfleet Fallen. Meanwhile, the Pre-Prep pupils laid their own wreaths at Calvi House and pupils in Years 3 to 6 were able to join the Upper School via live stream into their classrooms.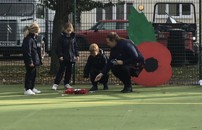 More images from our Remembrance Day can be seen on our School Gallery pages and the full story of Captain Peter Gresham Black can be read in our 6th November Newsletter.