News
Posted on: May 15th 2019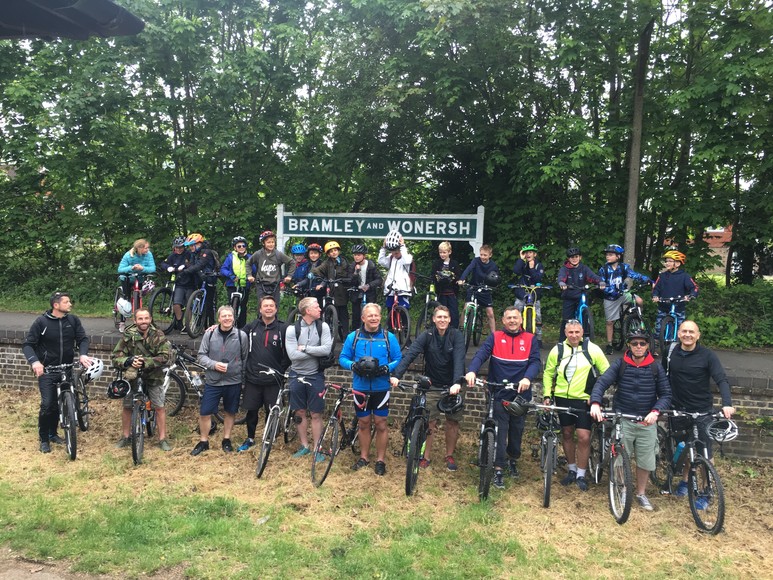 Last weekend a large number of Year 5 boys and fathers cycled 70kms along the Downs Link Pathway from Guildford to Shoreham. The sponsored ride, which was organised by the parents of Miles, raised funds for the Royal Marsden Hospital in memory of Lucy Barawitzka. This is Dan's blog.
We all met on Saturday morning at school with an 'eclectic' selection of bicycles. Some opted for road bikes, others for full-on professional grade mountain bikes or BMX's and one parent wisely invested in a very gentlemanly spring and gel cushioned saddle.
A father very kindly provided one of his delivery lorries to carry all the bikes to the start line in Bramley and was also at the end in Shoreham-by-Sea to collect the bikes, which was a huge help to our logistics plan!
We set off from Bramley at 10am and took three hours to complete the first 30kms in some fairly 'mixed' weather conditions including a few heavy showers. The boys did really well adjusting to the pace and at one point some fairly tricky terrain through a bluebell wood. But it was great to see them all encouraging and supporting each other along the way.
It was in this first section that a few of the boys took a tumble off their bikes or crashed into each other on occasions, with one incident completely buckling a pupil's rear wheel. At first inspection, we all decided that that bike was unworkable, but to our amazement he just jumped back on and cycled the next 6kms with a VERY wonky wheel!!
After a rest and a hearty pub lunch (with the bike repaired), we set off for the last 16kms to our campsite. Again the boys showed huge character. After already feeling weary from the long morning they pushed on to arrive at the campsite for 4:30pm.
The campsite was great. Some of the dads and mums had opted to hire a bell tent for convenience, which was there ready for them, while others brought their own tents and pitched them in a large circle. There were even bell tent with beds, duvets, blankets, carpet and flowers!!
We all walked along the river to a lovely local pub for supper and a well-deserved drink or two, as well as a game of traditional skittles. We finished the night around the campfire toasting marshmallows ,before heading to bed, ready for the busy day ahead.
The night was actually really cold! But we woke to the most amazing weather on Sunday. The boys all loved playing cricket and football in the paddock whilst we cooked bacon baps and hot drinks.
After breaking camp we set off again at 10:30am for the final 20km leg to Shoreham-by-Sea.
Again, it was lovely to see the boys actively managing the group and encouraging a couple who were finding it tricky to stay at the front, resulting in us all finishing together for yet another pub lunch and well deserved drink!
It was clear to see that the boys were really proud of what they had achieved. When you think about it, 70kms is a significant distance for a 10 year old to cycle. It was really interesting to see all of them, in their own ways, face challenges: physical, mental, perseverance and independence. Without a doubt, all of them are now better for it!
What has been an extra bonus for us is knowing we've raised £5,000 in the memory of Lucy!!
Thanks again for all the school's support.
Dan - A Year 5 Dad