Size, Location & Facilities
Size
The school currently has 398 pupils, 212 boys and 186 girls. 309 pupils are in the Prep School - Years 3 to 8 (ages 7 to 13) - and 89 pupils are in Pre-Prep - Nursery to Year 2 (ages 3 to 7).
Location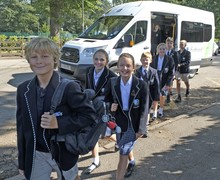 The Pre-Prep and the Prep School together occupy a 25 acre site on the edge of Cobham, Surrey, conveniently located near the A3, M25 and A245 roads, providing easy access to both Surrey and South West London.
The school runs daily coach and mini-bus services from a number of locations, including Wimbledon, Putney, Esher and Southfields. New routes are considered according to demand. The comprehensive service provides families with the option to take evening buses either at the end of the school day, or after Prep or Club sessions.
The majority of our children are day pupils, but the Boarding House remains a key feature of the school and on any weekday evening from Monday to Thursday (and some occasional Friday nights) up to 43 pupils will be boarding at school. In addition an increasing number of pupils join the boarders for any combination of breakfast, supper, or evening study periods and activities. We call this Day Boarding.

Facilities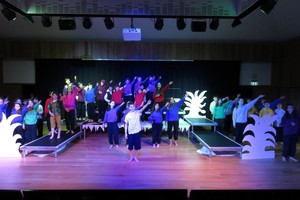 'The Jungle Book' performed in the Ashbee TheatreThe school enjoys a superb range of facilities on its 25 acre site.
In early 2015 a brand new state of the art 400 seat Performing Arts Centre opened to complement the Drama, Music and Dance departments. The new, award nominated space, which includes the Ashbee Theatre and Dance Studio, is linked to the original building via an impressive glass corridor which houses the Main Reception. It encloses a marvellously landscaped courtyard garden, open to pedestrian access and very much for the use of the entire community. The theatre has retractable seating for up to 400 and advanced sound and light systems, providing a wonderful performance space and event venue.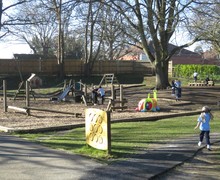 Landscaped play area in the Pre-PrepThe Pre-Prep department (the Calvi House building) was re-developed in 2009 to give our youngest pupils the best learning environment. They enjoy a suite of spacious classrooms with interactive white boards, landscaped play areas, their own purpose-built hall and a well-stocked library.
In the Prep School specialist Science, Digital Learning and Design Technology labs are used by all pupils and there are specialist facilities for Music, Drama and Art. 2013 saw the re-development of our Lower School (Years 3 and 4). This self-contained block is now home to eight spacious classrooms whilst continuing to provide pupils with access to their own suite of i-Pads and their own kitchen garden.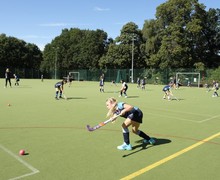 A major development of the school's sporting facilities in 2010 means that, in addition to an extremely well-equipped sports hall, extensive playing fields and hard surface tennis courts, Feltonfleet boasts a 15m indoor swimming pool, floodlit all-weather Astroturf pitch and climbing wall. The school has its own rifle ranges for both air-rifle and .22 shooting. Beyond the playing fields a band of woodland is home to the eco-pond and a wilderness area for play and Science study.
Future Developments
Over the next three years, Feltonfleet will begin a phased increase in the number of places available in the Pre-Prep, starting next academic year. Additional places in Reception and Year 2 will be available from September 2019, and by September 2020 the Pre-Prep will have a two-form entry. This will increase the size of the Pre-Prep from 80 to 160 places.
An integral part of the development will be a newly refurbished building, entirely dedicated to the Year 2 children. This will give the pupils increased access to the extensive facilities and further specialist teaching available on the main campus, enabling an even smoother transition towards Year 3 and the Lower School.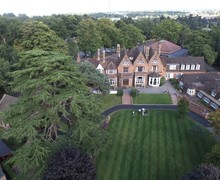 In addition to the growth of the Pre-Prep, ambitious plans have been approved to enhance the facilities for Science, Technology and Music in the Prep School. Further Science Labs, a new Technology hub for Digital Learning and Design & Technology, and a specialist Music School are all features of a project designed to enrich the opportunities for pupils in these areas.