Remote Teaching and Learning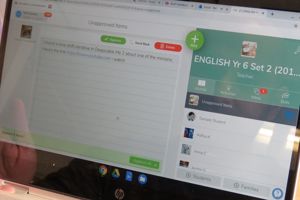 Feltonfleet School recognises the importance of consistent and uninterrupted provision of education and the role modern technologies can play in the event of any incident resulting in school closure.
In light of recent worldwide events relating to coronavirus, though with a wider strategic view towards any circumstances which may lead to a temporary cessation of our normal provision i.e. 'snow days', electrical / heating failure, Feltonfleet has implemented a comprehensive plan for remote learning arrangements.
We recognise that every home scenario is unique, however, the structure provided within the plan seeks to ensure that consistency of provision is achieved as much as possible, with pupils feeling connected and engaged with their learning.
We have listened to Staff, Pupil and Parental feedback and developed a Remote Teaching and Learning model that supports the understanding and application of new concepts, incorporating increased interaction and communication.
Personalised Remote Learning Timetables ensure that pupils are not subject to extended periods of screen dependency and that they have a broad and balanced experience. Aside from paper-based tasks, the timetable also schedules mindfulness time, reading, discovery learning and appropriate physical activity in line with the PE curriculum.
The model incorporates four features:
Clearly structured lessons available the day before they are timetabled, designed to continue the normal curriculum.
Concept focused video explanations.
Online video meetings with teaching staff to facilitate clarification and discussion.
Use of online digital portfolios to support assessment and feedback of remote learning outcomes.
The combination of recorded lesson content, online resources and live video meetings with teachers is preferable to 'live' lessons for pupils of Prep School age. Using this approach, pupils can watch and re-watch the new teaching input, access the series of lessons and resources across the term retrospectively, and engage directly with their teachers via video link to question, clarify and share any issues. Our Learning Enrichment team continues to support individual pupils in their care, maintaining close dialogue with parents.
Read our Summer Term Newsletters to see examples of our Remote Teaching and Learning in action.
Click here for Parent and Pupil Links to Learning Resources
Pupil Wellbeing
Whilst in the remote phase, we keep 'Where Individuals Really Matter' at the heart of our priorities. Our pastoral and welfare team closely monitor engagement with Remote Teaching and Learning in order to identify and engage with pupils who may need additional support. Additionally, we provide time for pupils to meet in their form groups via video chat.
Summer Term 2020 presented many challenges and new opportunities. We were optimistic that the children would be learning new skills and were determined that it would be a term well spent, no matter how long or little was in or out of school. Our pupils demonstrated true learning resilience, independence, problem solving skills and creativity. Their progress has been clear and, more importantly, we have all remained connected as a learning community. It has been an inspiration to witness pupils and their families reaching out to one another and creating support networks in these testing times.
We were delighted that the Government allowed schools to re-open gradually before the end of term, meaning that all our pupils could return to Feltonfleet, for at least some time, to complete the school year as a school community.