Feltonfleet Knights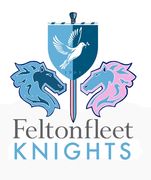 Our nurturing boarding house is situated in the heart of school, with dedicated dormitories for boys and for girls.
Over fifty pupils from Years 3-8 board from Monday to Thursday, supported by our experienced House Parents, Deputy Head of Boarding, matrons and boarding tutors.
Full boarders stay 4 nights per week while flexi boarders stay on set nights. Warm, spacious, clean rooms have 4-6 beds with modern wash facilities. Pupils can bring in items from home to decorate their space, making it more familiar. Evenings are busy with activities such as Dodgeball, Wacky Races and Arts and Crafts; extra study is also available to boarders. A cooked supper and breakfast are key parts of the overnight stay, as well as toast and cereal before bedtime.
Boarding is essential preparation for children intending to move to boarding senior schools while for others, friendships are cemented and new ones made within the boarding community. Boarding is fast becoming one of Feltonfleet's most popular offerings.