Headmistress's Welcome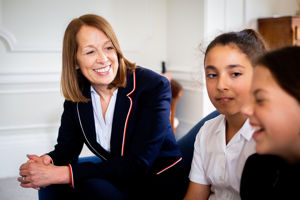 We know the most enjoyable personal growth comes from developing a child's natural talents and skills. In nurturing this potential within a sharing community, with a strong sense of family, children are able to discover their gifts and grow in self-confidence, independence and compassion.
Our core belief, that individuals really matter, shapes our values driven ethos of honesty, responsibility, respect and kindness. The overriding sense of happiness and laughter is palpable in the classrooms, on the playing fields and in the boarding house. Our unique blend of day and boarding pupils creates a real buzz around school. Feltonfleet children are optimistic and inquisitive, with a thirst for life and learning. They thrive here.
Our Five Year Strategic Plan outlines the framework and direction for our school to July 2024, incorporating the vision that lies at the heart of all our work – that our pupils reach Destination 13 as happy, independent, confident, resilient, empathetic, tolerant and emotionally intelligent young people, equipped to make a real difference at their senior school and in their subsequent lives.
Feltonfleet's combination of talented and dedicated staff, an inspiring curriculum and 25 acres of beautiful grounds with exceptional facilities, encourages children to use their imagination, to think creatively, to explore the world around them and to strive to excel. High standards and expectations are grounded in the conviction that academic excellence and enjoyment of childhood go hand in hand. Unusually for a prep school, we have 'time to stop & think' lessons to nourish emotional wellbeing and to develop resilience and strategies for lasting mental health.
As our pupils complete the four stages of their Feltonfleet journey, they secure places and scholarships to leading independent senior schools in a range of academic, sporting, musical and all-round disciplines. They are well prepared for the next stage of their journey.
Come and see what makes Feltonfleet a wonderful school for your child's preparatory education. We would be delighted to show you around.
Mrs Shelley Lance BD PGCE
Headmistress